Heaven is a place on earth – I extend my hand to yours.
I know in my heart, that once you start connecting on this level and the more you tap into and use your sixth sense, the more you will become aware of the opportunities that are presenting themselves in front of you every day.
May I invite you today to join me on The Be Enlightened Journey. Manifest your way to success with Michelle's book.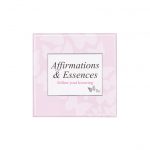 Create enlightenment in your life by manifesting all
of the 34 energies in this pack. Simply choose the
right affirmation card for you and repeat daily as
many times as your like for 3 weeks.